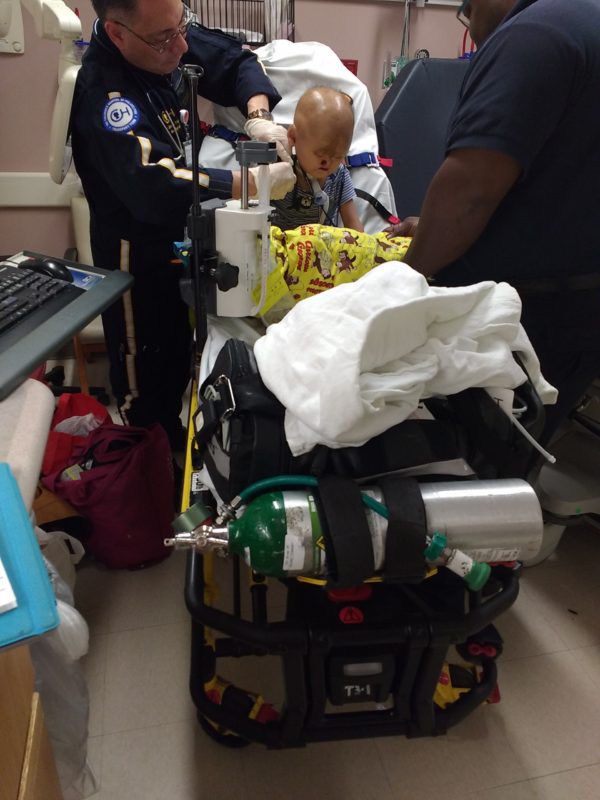 So this afternoon went a little more differently than planned and ended with our first call to 911 thus far. After finishing lunch and naps….our nurse went to wake up Adam to check on him (he's been very slowly recovering from that last admission which includes 6 weeks of antibiotics that have irritated his stomach a lot…and his continued to spike fevers this past week. Infectious disease saw him last week and suspected a virus but it keeps getting worse). So when he woke up from his nap his nurse voiced what I was scared to say "his color is off". We hooked him up to his machine that tells us his heart rate and oxygen and it his O2 was very low. He normally is at 99% and we never even feel a need to monitor him so that was concerning.
So sirens filled the neighborhood and he was whisked away. He was taken to a nearby hospital but has now been transferred by the pediatric transport team to CHOP. And he is in the ICU. On admission they put him on cpap (continuous positive airway pressure)…and are trying to figure out the cause of his respiratory distress.
We haven't been in an ICU since he was 6 months old so this is a bit scary for us. The fact that he so willingly let them strap him down in more straps that I wore skydiving (wink) is evidence to how weak and weary he was…he would normally be finding a way out of all those straps.
We would love prayers. Raja is at the hospital with Adam and I am home with Elliot and Rohan. My mom is in town thru Wednesday which is a huge gift. We are so thankful for that. Thank you for your prayers.